Hey folks,
Just a heads up on our content coming this week:
TUESDAY LIVE 2PM ET: Cases of the Week Show
WEDNESDAY LIVE 2PM ET: After Action Analysis Show
THURSDAY LIVE 2PM ET: Law of Self Defense News/Q&A Show
All these shows air LIVE on the Law of Self Defense Facebook page at 2PM ET the day of, and can also be watched afterwards as recorded videos over at the Law of Self Defense blog.
THIS SATURDAY! April 25! Law of Self Defense LEVEL 1 Live Online Class! ~10 SEATS LEFT!
We've gotten our webinar provider to add a few more seats to our account, but that still means we can take on only about another 10 students for this Law of Self Defense LEVEL 1 Live Online Class.
This is our full-day class that's also been accredited by more than 30 states for Continuing Legal Education for defense attorneys, prosecutors, and judges to learn self-defense law–yet we translate all the legalese into plain English so it's perfectly suited for anybody. To our knowledge this is the single most comprehensive law-based education available on self-defense law, INCLUDING WHAT'S OFFERED IN LAW SCHOOLS!
Even better, this live online class doesn't require any travel by anybody–you get to stay in the comfort of your home, and I get to broadcast from my office, and ALL THOSE AVOIDED TRAVEL EXPENSES ARE PASSED ON TO STUDENTS BY CUTTING COST OF THE CLASS IN HALF! Instead of the $199 a live in-person travel version of this class usually costs, this class is available for only $99.
But there's a catch–we are only teaching THREE of these classes in all of 2020, and this Saturday, April 25 is one of those three. So, if you're interested in learning the actual law of self-defense from an international recognized expert in the field, I urge you to click over to the class page to learn more, or even better to grab one of the few remaining seats NOW. Just click the image or link below!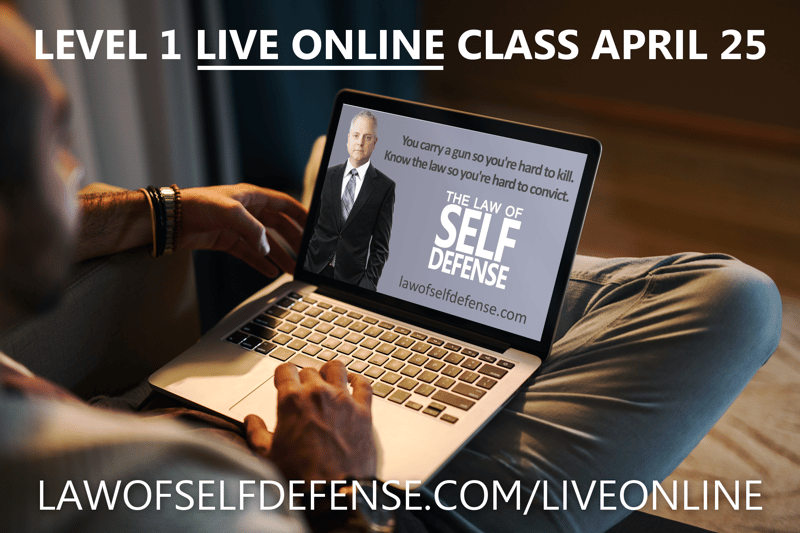 http://lawofselfdefense.com/liveonline
And Remember:
You carry a gun so you're hard to kill.
Know the law so you're hard to convict.
Stay safe!
–Andrew
Attorney Andrew F. Branca
Law of Self Defense LLC
Law of Self Defense CONSULT Program